After living a pandemic life for months on end, the world is finally starting to return to normal – whatever that might be. While customers are heading back to their favorite restaurants in droves, the increased demand won't last forever. Restaurant owners are in a unique situation at the moment. They can leverage the increase in revenue to establish a robust marketing plan that will benefit them long after demand for in-person dining returns to pre-pandemic levels.
The good news is that there are so many ideas for marketing your restaurant that are relatively inexpensive and provide quite a bang for the buck. Here are 16 restaurant advertising ideas you can implement today!
Branding
Before trying to figure out how to bring more business to your restaurant, take a step back and evaluate your brand. Really dig in and determine the ways in which you want your restaurant to be perceived, how you want your customers to feel, what your core values are, etc. Establish a very clear vision here. Once you've got that down, you'll be able to focus all of your marketing efforts on promoting not just your restaurant but your brand, as well.
Website
Regardless of whether you're an 80-year-old family-owned restaurant, or the hottest new chain: You. Need. A. Website. Even the best restaurant marketing ideas won't do you much good if you don't have one. A functional, up to date, mobile-friendly website, is well worth the money, and should be the first place you invest when it comes to restaurant marketing strategies.
Put Your Menu Online
Potential guests can get excited about what you have to offer before they even walk in your door! There are plenty of menu promotion ideas to utilize, but first your menu must be on your website. Make sure it looks clean and professional, prices are clearly visible, and that it renders just as well on a smartphone as on a desktop computer.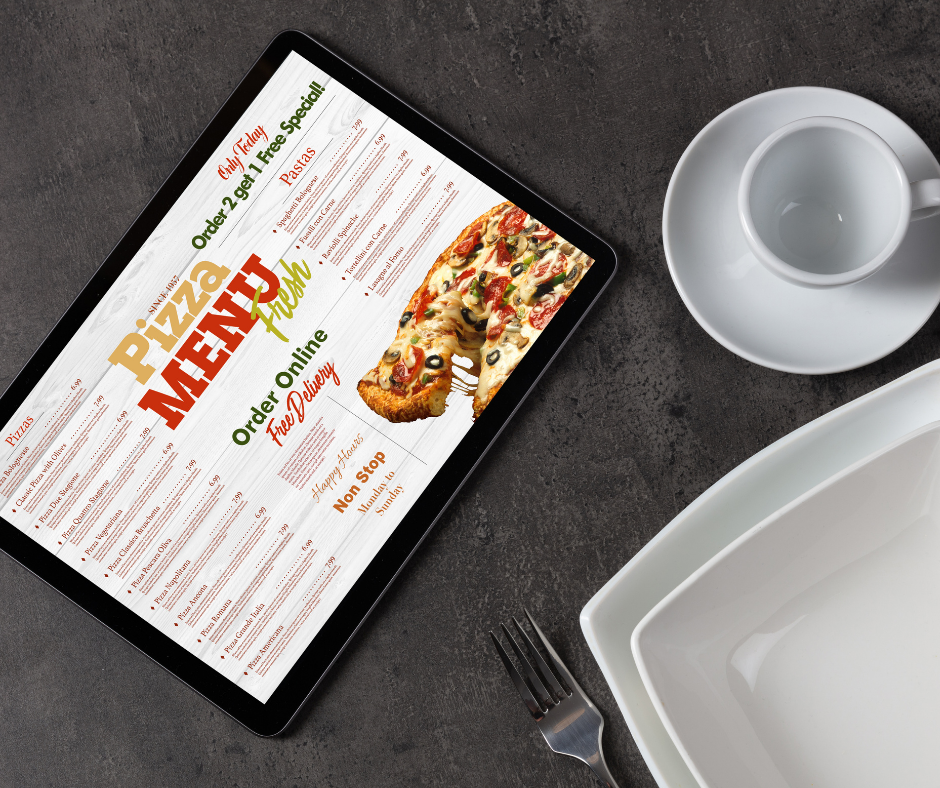 Be Accessible
Some of the most effective tips to attract customers to your restaurant are the simplest – like make sure they can contact you. Aside from poor service, nothing will turn potential customers off faster than an inability to get in touch with you to ask questions or make reservations. Stay accessible by ensuring contact information is clearly labeled and easy to find on your website.
Create Landing Pages
Website landing pages can function as advertisements. You can create custom landing pages for anything you like – advertising restaurant menus, highlighting specials, directing users to a specific section of your website, and the list goes on. The best part about landing pages is that they're easy to both create and modify, so you can change them as often as you want.
Search Engine Optimization
Honestly, the best way to promote your restaurant is to remain visible in online search results, which is why search engine optimization (SEO) is one of the most important marketing tools available. Once you have a grasp on some SEO basics you can optimize your own website at no cost, making SEO one of the least expensive restaurant advertising ideas on our list.
Leverage Local SEO Key Words
Going after local SEO keywords is a must. "Pizza in Portland," "Farm to table Baltimore," "Best whisky bar in Chicago." Think like your customer. What would they search if they were looking to find a restaurant like yours, in your area?
Optimize On-Page
In addition to targeting keywords for the purpose of SEO, making small changes like adding captions and alt tags to your photos will help boost organic rankings. As will ensuring your website loads quickly and is easy for guests to navigate.
Content Marketing
In 2021, Content marketing is where it's at. Sales promotions for restaurants look much different today than in years past, and while there are plenty of costly options for content marketing, there are also many inexpensive (or free) restaurant promotion ideas that center around content. The options for creating content are endless. Here are three of our favorites.
Engage Food Bloggers
Connecting with local food bloggers is one of the most effective restaurant marketing tips we can give. For the cost of a meal and a glass of wine, you'll get exposure to all of their followers as well as end up with content you can share with yours. We recommend working with some mid-level bloggers – big enough to have established a decent sized community, but not so big that they aren't willing to work with smaller establishments.
Generate New Content
Want to know how to promote your restaurant business without spending a single cent? Create your own content! Updating web content (like a blog) just once a week can have an incredible impact on your online visibility. Your content can center around anything you want. The goal is simply to engage your audience and build a strong following.
Recognize National Observances
This one might seem silly but is perfect for anyone who struggles to generate unique content. Create special offers, menu items, and social posts based on the observance of the day – and trust us, every day is some sort of holiday. Maybe you add a decadent chocolate cake to your dessert menu on National Dark Chocolate Day. You could offer a free appetizer with purchase of a watermelon margarita on National Watermelon Day. Or get really innovative and create a breakfast-themed menu on International Waffle Day. The possibilities are endless. Just don't forget to post on social!
Social Media
Social media and restaurant marketing go hand in hand. Not only do social channels offer a means to connect with patrons, it's also a great way to build your brand. You can share behind the scenes secrets, post special offers, maybe even let your followers have a say in a new menu item or theme night. The possibilities that come about from a well-established, engaging presence on social media can take your restaurant to the next level. Here are a few social tips to keep in mind.
Get Good with Photos
If there's one thing that will ensure customers scroll right by your social post, it's lackluster photos or video. Whether snapping pictures of your menu, the food, or your team, the bar is already set pretty darn high. Users expect quality. In its absence, you risk fading right into the background as users scroll.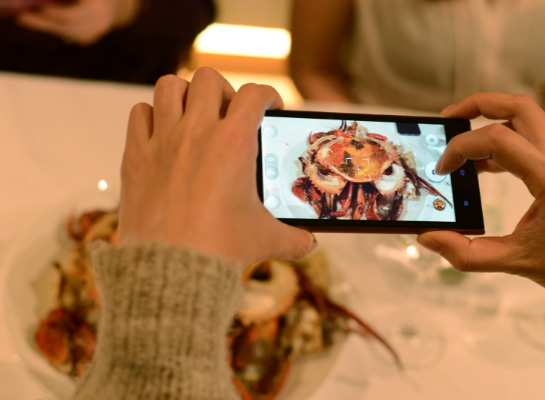 Promote User-Generated Content
When pondering how to get more business in your restaurant, you'll definitely want to find ways to both encourage return customers and generate word-of-mouth referrals. User-generated content helps you do both. Leverage content guests share about your restaurant by reposting it and tagging them. Humans love to be loved. Do this today, and next time the same person (or any of their social media connections) stop in for a bite, they'll be much more likely to snap and share.
And don't forget – we've already established that content creation is one of the best ways to market your restaurant. Reposting user-generated content takes some of the creative burden off of your shoulders.
Engage with Customers
Today's social media algorithms tend to favor engagement over likes and views which means you've got to connect with your current followers. Respond to comments, messages, and reviews, and do so authentically and with integrity. Social media users won't hesitate to call you out for a less than stellar response, and that kind of news travels fast!
Communicating With Diners
Keep an Email and Phone Number Database
So many restaurant advertising ideas rely on the ability to contact your customers, so it's imperative that you establish a customer database with phone numbers and email addresses.
Use Emails
And on that note, as you begin to figure out how to grow your restaurant business in these unprecedented times, never underestimate the power of a good email marketing campaign. You can use email to share restaurant news, get the word out about available reservations or new menu items, even to advertise job openings.
Send Texts
Text messages disseminate the same information conveyed via email, but in a different manner: short, sweet, and without too much flair. For the best outcome, use text campaigns strategically and sparingly. You want to inform your customers, not annoy them, after all.
Foodie Apps
There are plenty of restaurant advertising ideas to take advantage of, but if all of this feels overwhelming, consider utilizing a newer restaurant marketing trend and work with a few of the foodie apps out there. Mobile apps, whether for delivery, reservations, or improving the in-person dining experience can help you gain exposure to potential customers.
And as a bonus, getting on these apps allows you to spend less time figuring out how to market a restaurant and more time running one. They do the advertising, and you reap the benefits anytime a user picks up their phone in search of some grub. For instance, when local users open the OrderEx app to search for dining options, restaurants which offer the OrderEx experience are listed as "nearby." This provides restaurants the opportunity to connect with new customers who wouldn't have thought to stop in, otherwise.
OrderEx Benefits
We are excited to meet you and chat about ways to streamline dining experiences in the midst of rebuilding, minimize the amount of work required by your servers, increase your revenue, and of course provide unique marketing opportunities to get the word out about your restaurant. To learn more about OrderEx and how it can benefit your business, visit our website or request access to our Beta Program!
https://www.orderex.app/wp-content/uploads/2021/09/Restaurant-Advertising-Ideas-3-1.png
423
1200
karolina
/wp-content/uploads/2021/06/logo_top.png
karolina
2021-09-02 09:31:07
2021-10-07 23:34:00
Restaurant Advertising Ideas for COVID-19 Recovery in 2021 and Beyond