It's no secret that the COVID-19 pandemic changed the way the world operates. The use of technology surely saved many businesses that would have otherwise been forced to close, and the restaurant industry would have been the first to go. If we'd been hit with COVID-19 twenty years ago, most independently owned restaurants simply wouldn't have survived.
While the world is slowly returning to normal, restaurants can't just go back to "business as usual." The technology used in the restaurant business as a result of the pandemic is here for good. So how can restaurateurs leverage it and take their establishments to the next level?
Current Technology Used in the Restaurant Business
Perhaps the question isn't, "how has technology changed restaurants? But instead, "how hasn't it?" As soon as stay-at-home orders were put in place last spring, restaurant technology solutions began to hit the market, en masse
Many restaurant owners assumed these would be short-term solutions, and that the need for them would be eliminated once the industry returned to normal. But most restaurant technology news indicates that current trends in the restaurant industry are here to stay. Here are the top 5 restaurant technology trends of 2020 (and beyond).
Mobile Ordering

Much of the technology used in the restaurant business involves mobile ordering. The Number of customers ordering from restaurants via a smartphone app nearly doubled between 2017 and 2018. Today, mobile orders represent 60% of all orders placed online.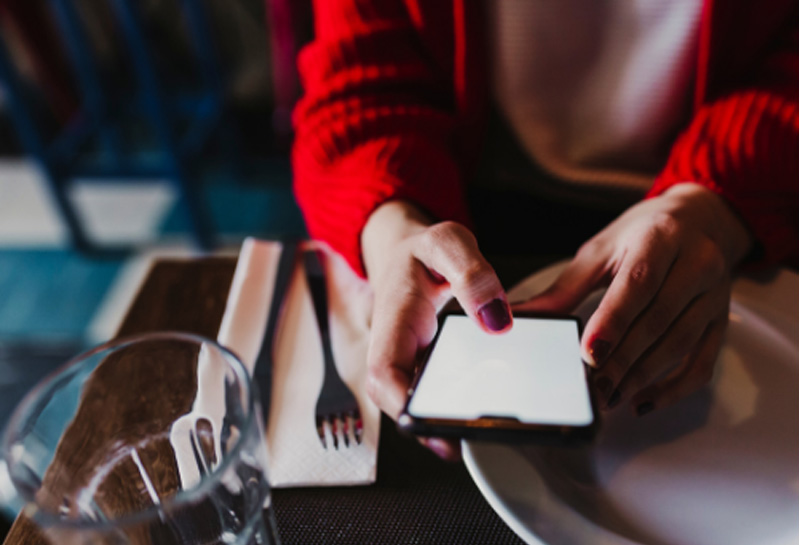 Does Mobile Ordering Benefit the Customer?
Mobile restaurant ordering technology engages the customer and gives them control over the ordering process.
How Does Mobile Ordering Benefit the Restaurant?
Online orders boost revenue. Mobile orders are related to an increase in sales, with online patrons spending an average of 20% more than in-person diners.
Mobile Payment Options

It's not just about ordering online, but also paying online – even if from inside the restaurant. Like many restaurant business solutions, smartphone payment options and tableside payment terminals are becoming mainstream.
How Do Mobile Payment Options Benefit the Customer?
Customers might feel more comfortable when swiping a credit card themselves. Because their card never leaves their sight there is a decreased potential for theft. Furthermore, the latest restaurant technology accepts touchless payment options such as Apple Pay, meaning patrons don't even have to take out a wallet to pay their tab.
How Do Mobile Payment Options Benefit the Restaurant?
Mobile payment options streamline the guest experience at the end of the meal. They eliminate wait time for the check as well as the time for servers to grab and run their card. Decreased wait time for patrons yields decreased turn time for restaurants. This increases the number of guests who can be served in a given timeframe, potentially increasing revenue.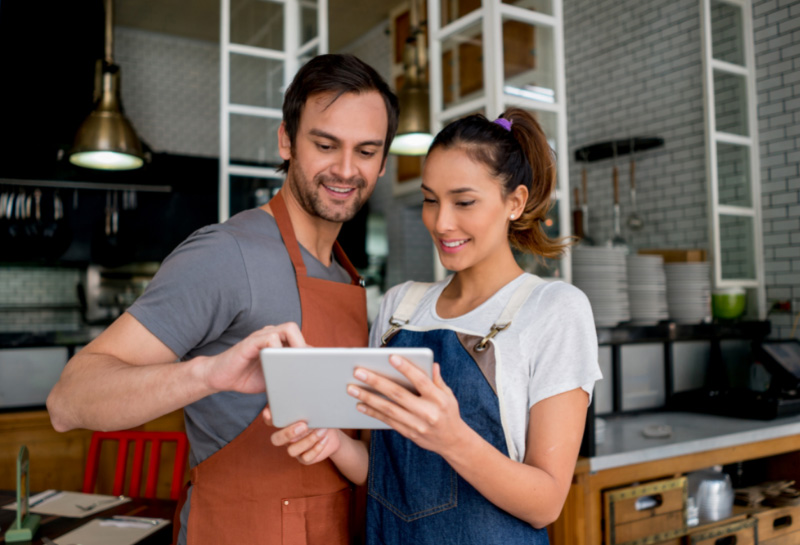 Delivery Apps

Among the current technology used in restaurants delivery apps were probably the most common, pre-pandemic. But as soon as quarantine was mandated and restrictions were placed on in-person dining capacity, delivery apps went from convenient to essential. Although the country is finally starting to stabilize and the challenges of running a restaurant during a pandemic are easing, there is no indication that delivery apps, such as Uber Eats or Door Dash, will be any less popular in the future.
How Do Delivery Apps Benefit the Customer?
Patrons get to enjoy food from their favorite restaurants from the comfort of their own home, while in their sweatpants, nonetheless.
How Do Delivery Apps Benefit the Restaurant?
These apps allow restaurants to gain new customers who wouldn't have otherwise known about their establishment. Furthermore, fewer front-of-house staff members are required to support the same amount of sales.
QR codes

Like other new technology in restaurants, QR codes were catching on before COVID-19 restrictions were in place. But their usefulness and adoption skyrocketed when strict new sanitation protocols were put in place. QR codes can be used for anything from pulling up a menu tableside, to paying the bill from a smartphone. And using QR codes don't require guests to download an app. They can be used by anyone with a smartphone, at any time.
How Do QR Codes Benefit the Customer?
QR codes provide options for contactless service. Guests can pull up a menu at any time throughout their meal. They can then opt to pay immediately after their last bite or choose to linger and pay while sipping an after-dinner coffee.
How Do QR Codes Benefit the Restaurant?
QR codes make for easy access to anything usually provided in paper form – menus, specials, receipts, etc. Using them saves servers time, not to mention the cost of printing.
Multi-Purpose Tech Tools on The Rise

Among the current technology used in the restaurant business, very few tools tackle several tech needs at once. OrderEx, changes this by providing an all-in-one digital ordering and online payment platform that will take your restaurant operations to the next level. Using OrderEx, in-person diners place orders directly from their smart phone. After they have finished eating, guests can use the OrderEx app to pay quickly and easily, right from their device.
How Does OrderEx Benefit the Customer?

OrderEx allows guests to dine on their terms. Customers can take their time to peruse the menu without feeling rushed to make a decision, or they can place their order right away without having to wait for a server to arrive tableside.
It's both convenient and requires much less person-to-person contact, which many guests are more comfortable with in the wake of COVID-19. When it's time to pay, once again timing is on their terms. No need to wait if they're in a hurry, and no need to rush if they'd rather make their exit at a leisurely pace.
How Does OrderEx Benefit the Restaurant?

Many current issues in the restaurant industry center around customer satisfaction. OrderEx helps eliminate these concerns by providing restaurants the opportunity to meet customers on their level, whatever that may be. Additionally, tools like OrderEx help restaurants operate more efficiently. At a time when restaurant staffing is a major challenge, anything that allows restaurants to meet customer service expectations and serve a full house while operating with a smaller staff is a welcome use of tech!
Learn More About OrderEx

To learn more about OrderEx and how it can benefit your restaurant, visit www.orderex.app or request access to our beta program. We'd love to share all we have to offer and how we can help you grow your business in the wake of COVID-19.
https://www.orderex.app/wp-content/uploads/2021/07/Technology-used-in-restaurant-business-2.png
423
1200
karolina
/wp-content/uploads/2021/06/logo_top.png
karolina
2021-07-30 20:09:43
2021-10-07 23:33:01
Post-Pandemic F&B Trends: New Technology Used in the Restaurant Business is Here to Stay